THE HOME TEMPLE
STRUCTURE OF THE HOME TEMPLE: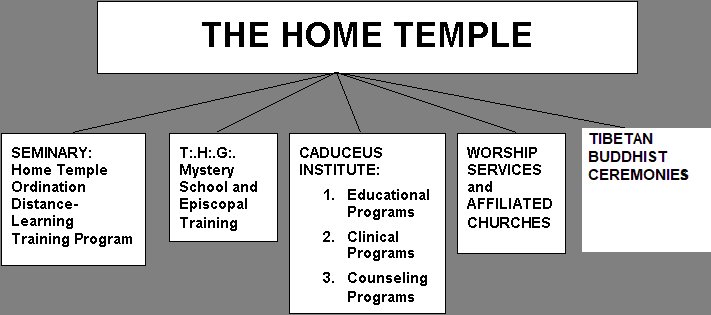 HOME TEMPLE SEMINARY: See PROGRAM and Links
TEMPLE OF THE HOLY GRAIL: See T:.H:.G:.
CADUCEUS EDUCATIONAL PROGRAMS: See CADUCEUS
WORSHIP SERVICES: See SANCTUARY
HOME TEMPLE CENTER PROJECT: See CENTER
PANSOPHIC FREEMASONRY (ESOTERIC MALE-FEMALE): See PANSOPHIC
PURPOSE AND MISSION: See FAQ's
STATEMENT ON VITALISTIC HEALING: Mar Yeshua, the Master Jesus, used what today is known as a vitalistic approach to disease and healing. Christian churches have interpreted this in doctrines of "faith healing," applying techniques such as laying-on-of-hands, prayer, and credal affirmations. In some denominations these techniques are used along with extremist vegetarian or vegan diets, self-prescribed herbs, and supplements as a practice of medicine, often with terrible results. In its Mind-Body Temple instruction, and in various programs of the Caduceus Institute and the T:.H:.G:. Long-Life Empowerment that approach health and disease from a vitalistic perspective, the Home Temple has adopted an interpretation of vitalism radically different from that of traditional charismatic Christianity. It balances the benefits of modern allopathic medical treatment, which is defined as medical practice, with homeopathic, nutritional, hypnotherapeutic, yogic, and other forms of so-called "alternative" consultation and self-treatment, which we understand as taking responsibility for our own holistic wellness. The following are the policies concerning Vitalistic Healing that govern health practices recommended by the Home Temple and it special ministries through the Caduceus Institute:

The Vitalistic approach to healing regards body, mind, and emotions to be expressions of the Vital Force, which has also been known by such terms as Qi, Prana,Vigor Vitae, and others.

The Vital Force is the energy that animates all living things and withdraws at death.

Each person is an Imago Dei capable of cultivating Vital or Life Force, and therefore must take primary responsibility for his/her own health.

Prevention of disease, premature aging, and ill-health through cultivation of the Vital Force enhances the immune system and optimizes physical and mental wellness.

There is a growing body of science that must be made accessible to all people who wish to take primary responsibility for their own health.

Valuable wellness practices and treatments are embedded in ancient, traditional, and other vitalistic forms of healing that rely upon steps that can be taken only by individual effort, such as Qi Gung, Homeopathy, Traditional Foods, Hypnotherapy, and various advanced yogas.

Home Temple educational literature will recommend specific programs and products that have demonstrated clinical effectiveness in peer-reviewed studies.
In June of the year 2001 the Home Temple was incorporated as a California Non-Profit Religious Corporation. Previous to this time it had operated as an unincorporated not-for-profit religious organization supported by non-tax-exempt private donations. In February of 2002 the Home Temple was granted federal I.R.S. tax-exempt status as a 501(c)(3) religious corporation. Pursuant to I.R.S. requirement that our exemption application, supporting documents, and the letter granting exemption be available for public inspection, and that this requirement can be met by placing these documents on the internet, we have bundled them into a PDF file that can be viewed by taking the following links:
PDF FILES OF HOME TEMPLE INCORPORATION AND TAX-EXEMPTION DOCUMENTS: Letter of Exemption from I.R.S. Application for Exemption to I.R.S. with Supporting Materials The www.hometemple.org website was also used as supporting documentation Constitution and By-Laws Minutes from Board Meetings 2002-2003.
Minutes from Board Meetings 2002-2003 Minutes from Board Meeting for 2004 Minutes 2005 Minutes 2006 JIVA Proposal 2006 Minutes 2007 Minutes 2008 Minutes 2009 Minutes 2010 Minutes 2011 Minutes 2012
Last four years of 990's: 2005 2006 2007 2008 Stopped filing 990's in 2010 because as church organization we are not required to file