Bishop Keizer's Surprise Birthday Party
[ Home ] [ ORACLE ] [ KEIZER TRIBUTE ] [ PEMA-KOD.htm ]
I want to thank Bishop Willa and the Sisters of the Rose for organizing a surprise celebration of my 65th birthday at the conclusion of our Sunday Communion Service on April 2, 2006.
Here are wonderful tributes to my ministry offered by some of those in attendance:
TOFAH EILEEN
"Thank you for your dedication, hard work, and inspired teachings. I so appreciate how you have coalesced so many esoteric teachings into a path to ascension. You are to all these paths as Patangali was to the Vedic wisdom."
MARITA
"Your life is much more important than you can imagine, and that one life continues to influence through the result of profound impact you have had on my life. Thank you for your belief and support and confidence and teachings. It is an honor and privilege to have you in this world. Bright blessings and happiness and health wishes upon you!"
ERIN
"The lighthouse on the front of this card was outfitted with the most powerful lens of its day. 1008 brass framed prisms concentrated its source of light--allowing just one candle flame to light up the whole bay! I see the consequence of your work in the world as very similar, only you have many more than 1008 reflective facets sending out rays of light from your one luminous being..."
JOHN
"Thank you for being an Integrator and a Wayshower."
WILLA
"I love you, Dear. Happy Birthday!"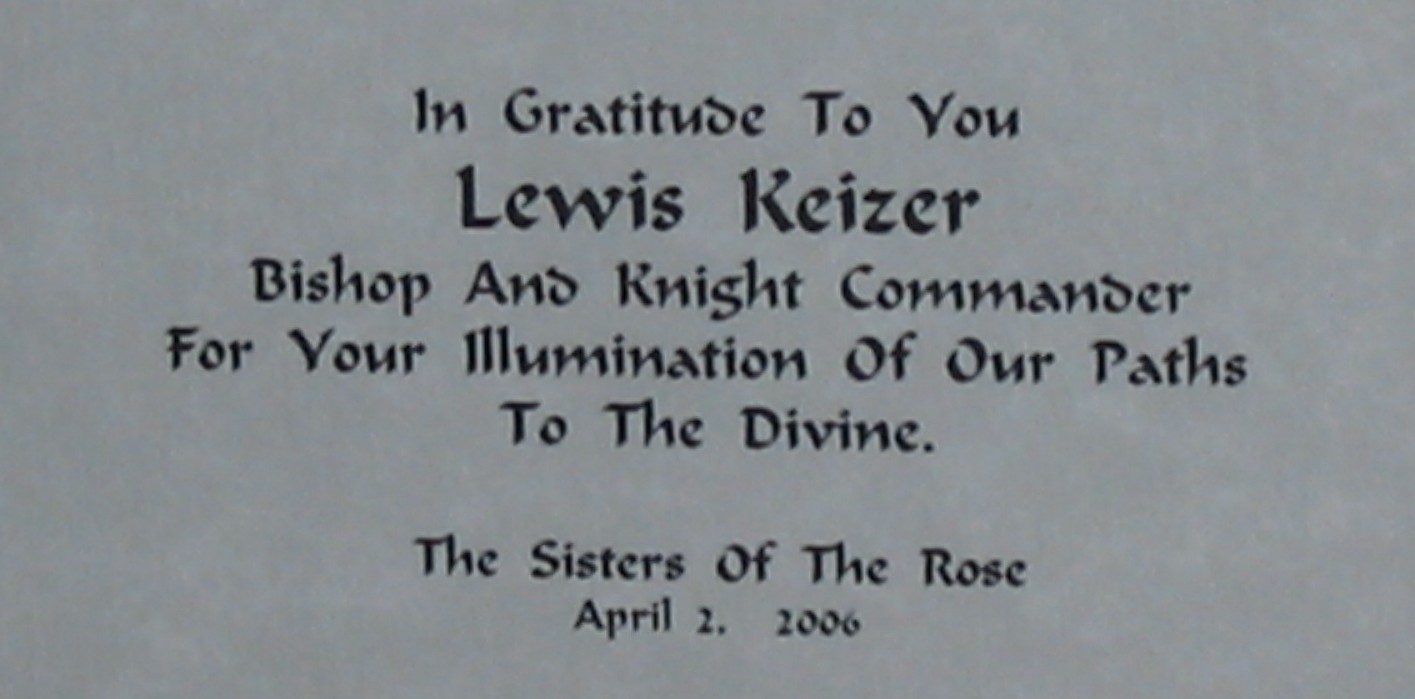 The Sisterhood is a group of Ordained health practitioners who have been meeting every Wednesday with Bishop Willa over many years for mid-week Liturgy, spiritual study, and mutual support. These are spiritually powerful professional women, all of whom are Initiates of T:.H:.G:. (Temple of the Holy Grail), have earned Advancement into the Second Order, and been Dubbed as Knight-Dames of the Healing and Teaching Order of St. Michael and St. Raphael--Willa, Tofah Eileen (now serving on the Home Temple Board of Directors), Marita, and Erin. They presented me with two beautiful icons of St. Michael and St. Raphael, which will be given places of honor in the Home Temple Sanctuary, with a plaque including the dedication shown above and explanations of the Archangels Michael and Gabriel. Here is a photograph: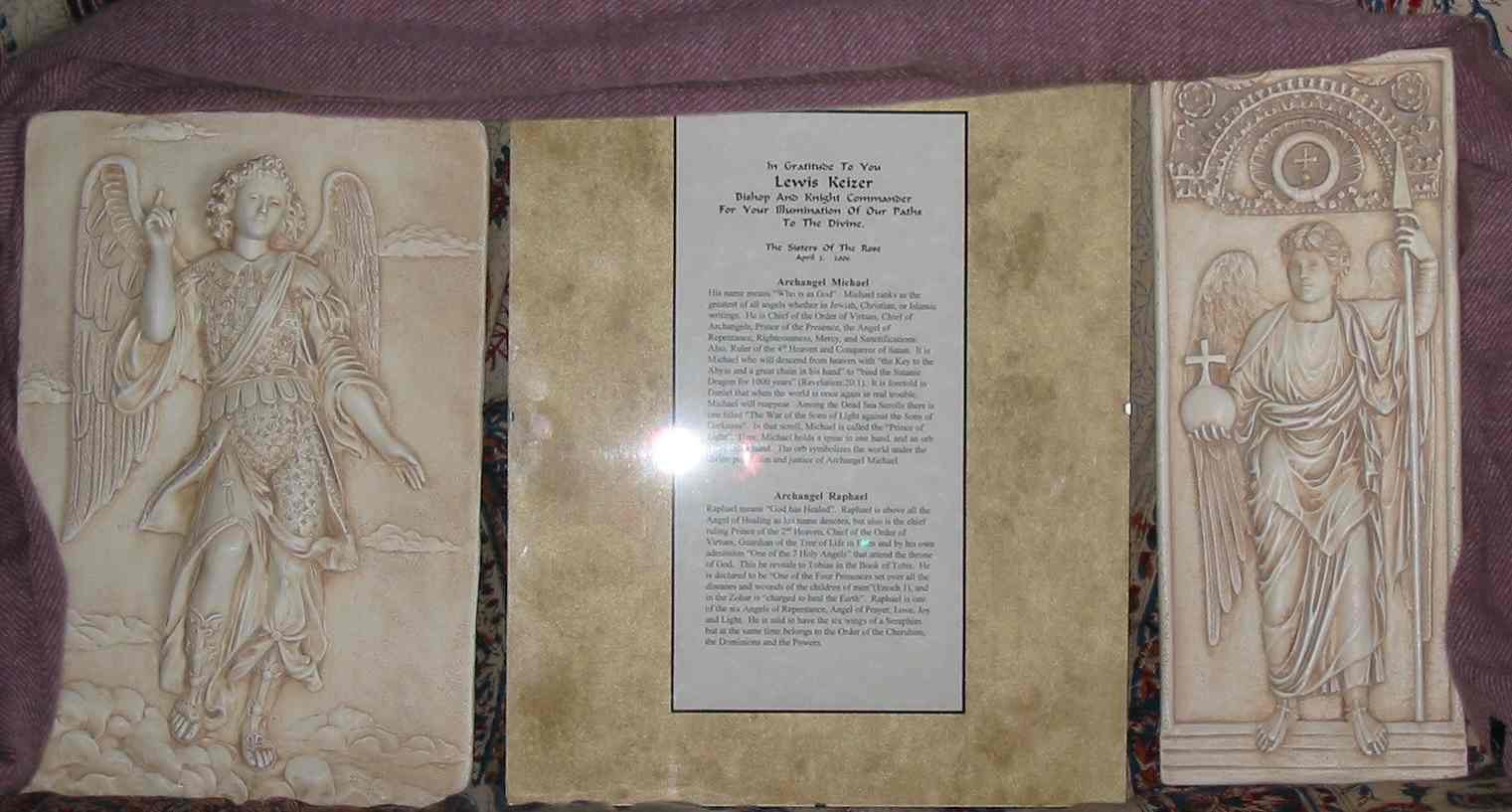 Other gifts, also to be displayed in the Sanctuary, were offered by other Home Temple clergy, as shown below: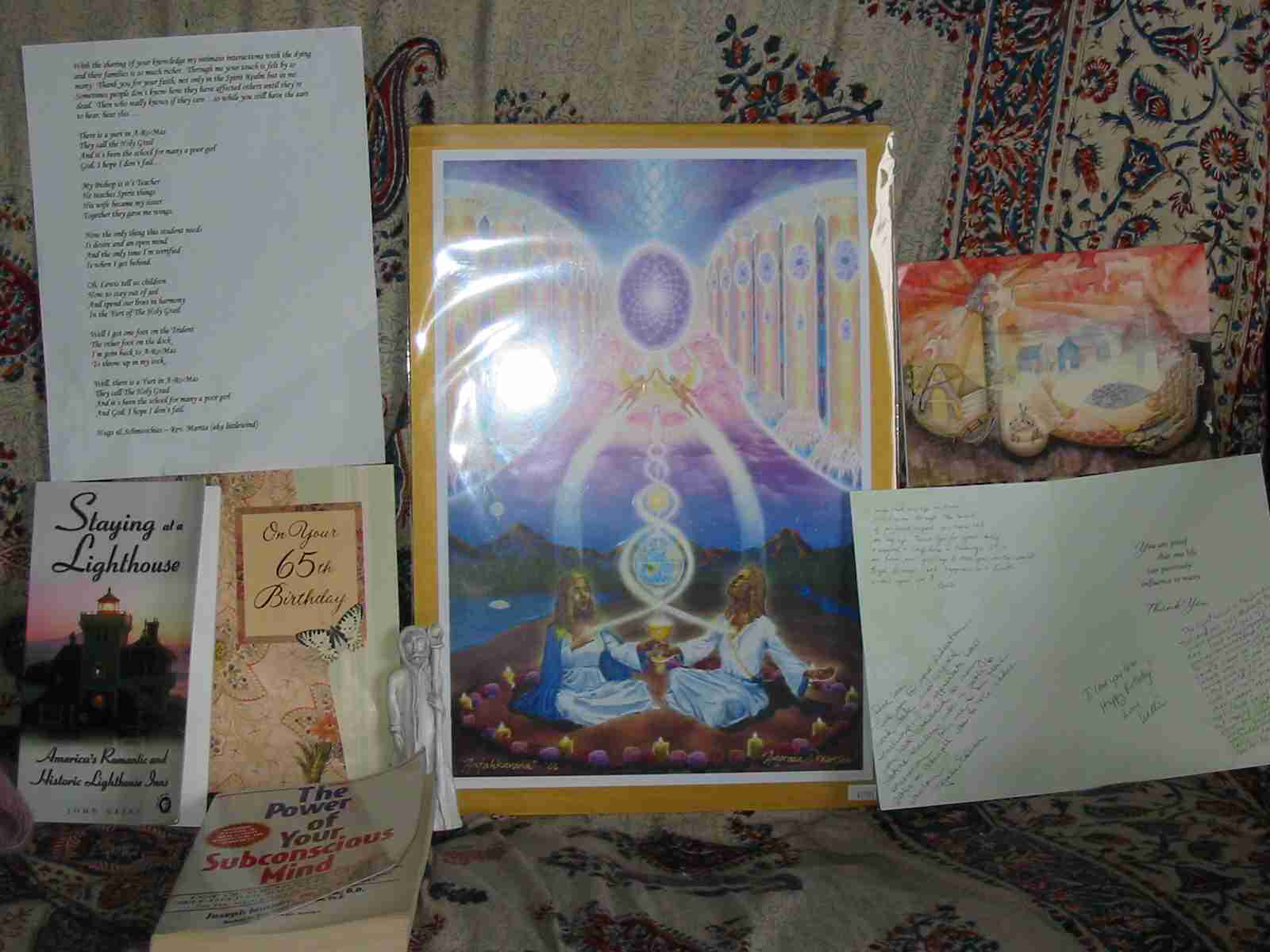 These included a hilarious song composed by Marita about the Home Temple Center Yurt Sanctuary and sung to the tune of House of the Rising Sun. Erin (knowing I love boats) gave me a book about lighthouses, a little crystal representing the fresnel lens used to focus light, and read her tribute about my being a spiritual lighthouse. John gave me a beautiful print of a painting by Mount Shasta artist Amoraea Dreamseed representing Jesus and Mary Magdalene working together spiritually, as Willa and I do during Mass and at other times. He also gave me a little statue of a Druid Priest with staff, saying that is how he sees me in my ministry (I feel so elderly). L.E. gave me a book by Joseph Murphy. Daniel gave me a bag of oranges from his trees.
Here is a close-up of the print that John gave me for the Sanctuary: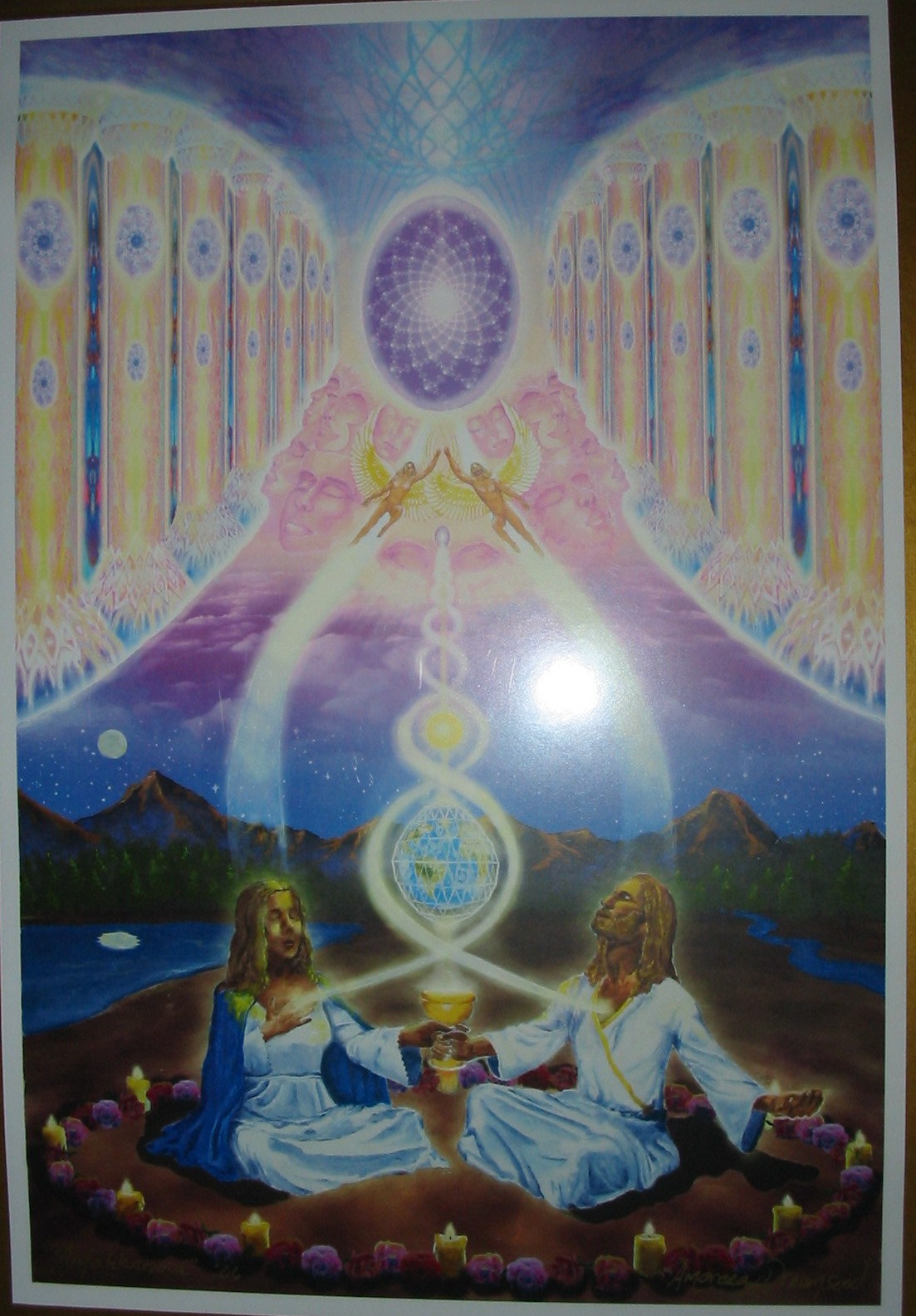 Thank you all!
+LK+