CONSECRATION OF FIVE BISHOPS
June 3, 2007

These women and men demonstrated outstanding spiritual leadership during their years as Priests. They remained in close contact with the Presiding Bishops, developed their spiritual practices, and pursued post-Ordination esoteric and academic degree curriculums through T:.H:.G:. and the Home Temple School of Sacred Studies. In spring of 2005 and 2006, they were nominated by the Synod of Home Temple Bishops for advancement to the Episcopate. They all completed the B.D. program, T:.H:.G:. First Order, and all course requirements up to the Thesis for the M.Div. Degree. After an intensive Saturday orientation to the Office of a Bishop and midnight Vigil, we all convened for the Consecration Mass on Sunday, June 3, 2007.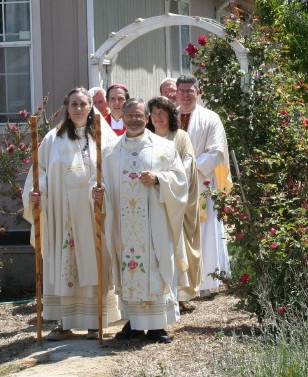 Procession to the Yurt Sanctuary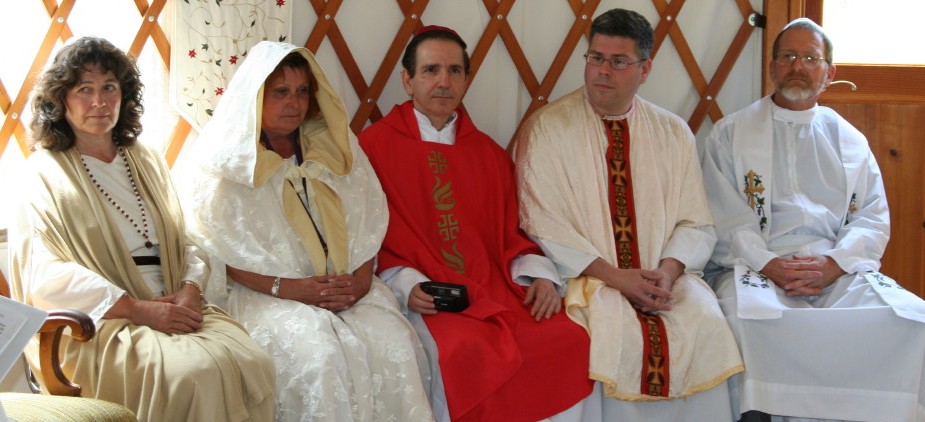 Our Bishops-Elect from left to right: TOFAH EILEEN, MARITA, LUIS, EDWARD, and DANIEL.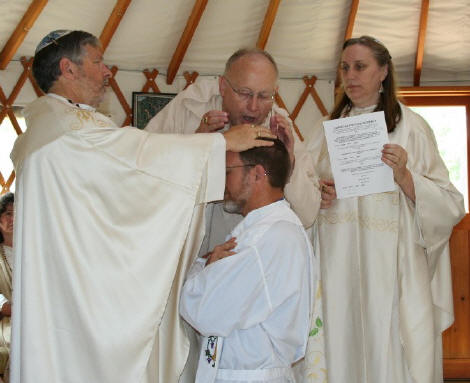 Bishop Lewis is the Consecrating Bishop for the men. Bishops Willa and Ken serve as Co-Consecrators (not required for valid Consecration). All three participated in the Laying on of Hands and, as shown here with Daniel, the Exsufflation or Transmission of the Apostolic Breath to the Crown.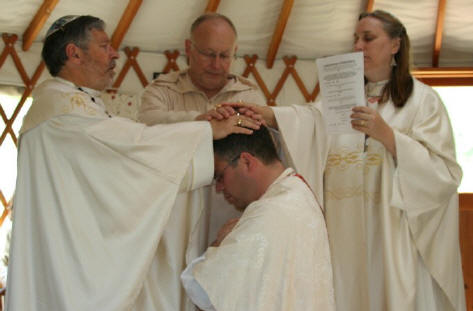 The Laying-On of Hands by all three to Consecrate Edward as a Bishop.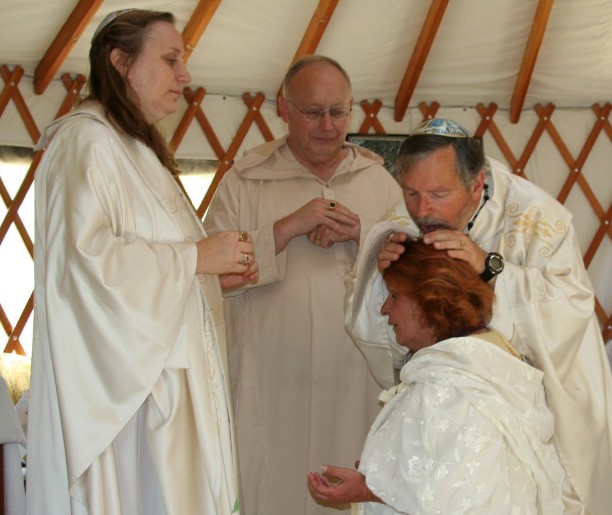 Consecrating Bishop Willa leads the rituals for Marita. Bishop Lewis takes his turn with the Exsufflation to the Crown.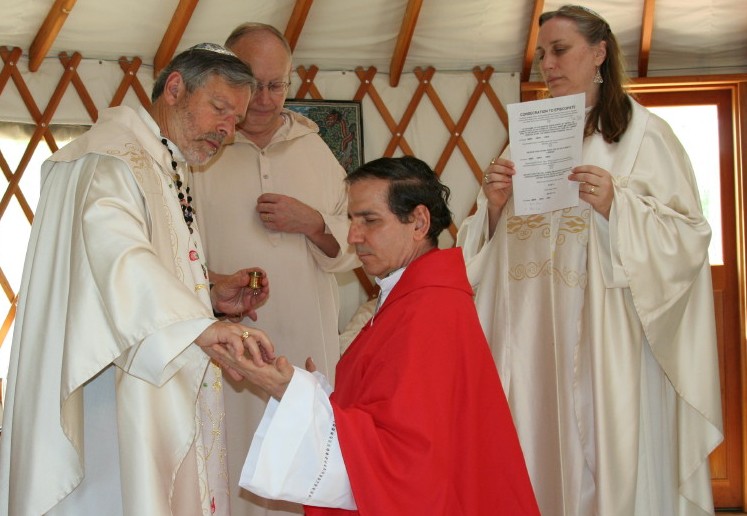 Bishop Lewis is the Consecrator for Luis. Here he anoints Crown, Ajna, Throat, Heart, and both Palms.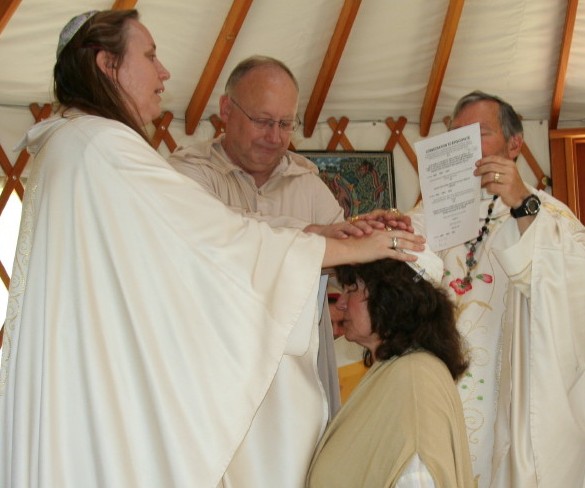 Bishop Willa Consecrates Tofah as a Bishop assisted by Bishops Ken and Lewis.
Tofah died after a struggle with brain tumors in the summer of 2009.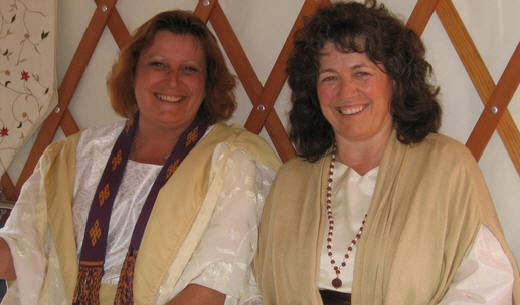 Our two new women Bishops: Marita and Tofah (now deceased).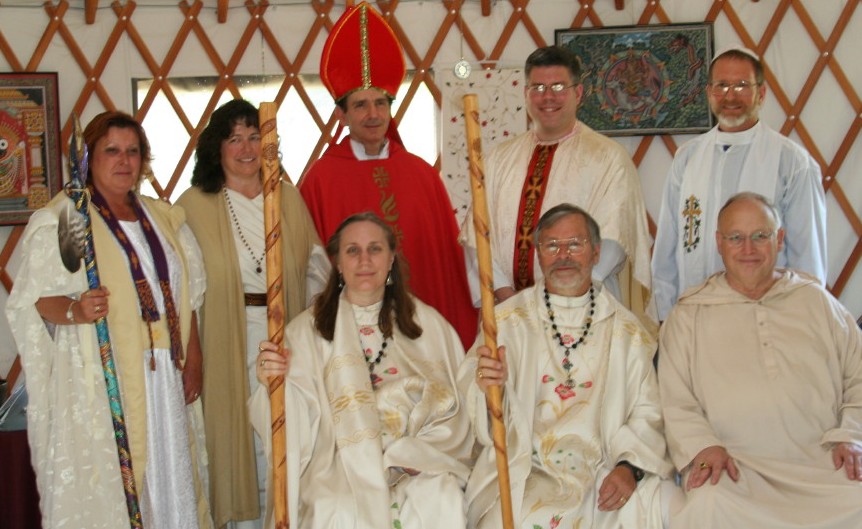 A gaggle of Bishops. From left to right: MARITA, TOFAH (now deceased), WILLA, LUIS, EDWARD, LEWIS, DANIEL, and KEN. Each chooses his/her own Episcopal mode of dress. Marita is a Native American with feathered staff, Tofah a Sufi Sheik with Jyotish mala, Luis and Ed have strong Catholic background, Daniel has Mormonism and Masonry in his, Ken is a high Initiate in the Holy Order of MANS, Lewis and Willa in Theosophy and Jyotish, wearing rose-petal beads made by Willa with a chalice instead of a cross for an Episcopal medallion and serpent staffs carved and given as a gift by a friend.
CONSECRATION OF BISHOP MAR ISRAEL THOMAS FOR EASTERN CANADA
November 20, 2011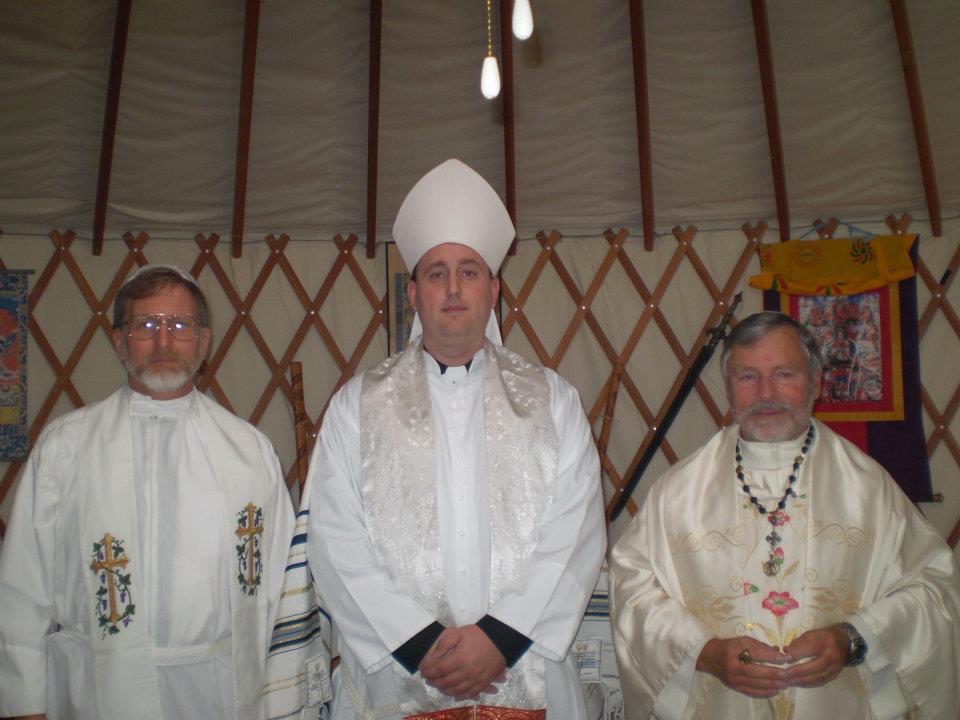 CONSECRATION OF BISHOP FRANCOIS FOR AUSTRALIA
June 3, 2012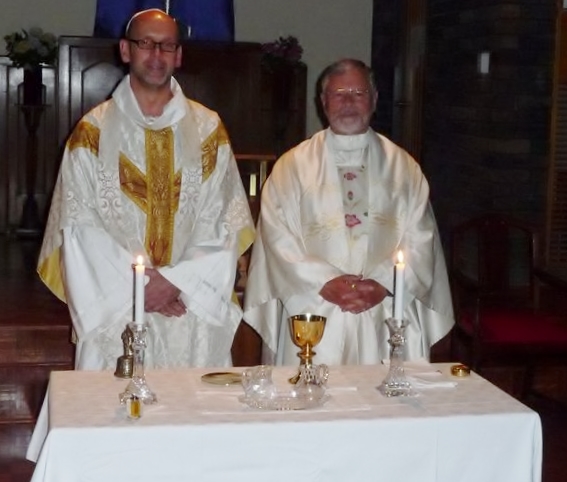 MUTUAL SUBCONDITIONAL CONSECRATION TO STRENGTHEN APOSTOLIC LINEAGES
Sunday June 17, 2012 Asheville, North Carolina
Bishops Lewis Keizer (third from top right), Bishop Ronald Shelton of the Celtic Apostolic Church (top center), and Bishop John Plummer (fourth from top left). Other Bishops of the Celtic Apostolic Church present were Bishop-Abbott David (Asheville, right side holding staff) and Bishop Devlin (New York, between Keizer and Shelton)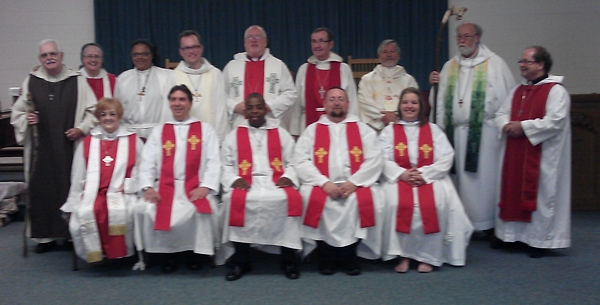 CONSECRATION OF BISHOP ANTHONY FOR THE NEW YORK AREA
August 5, 2012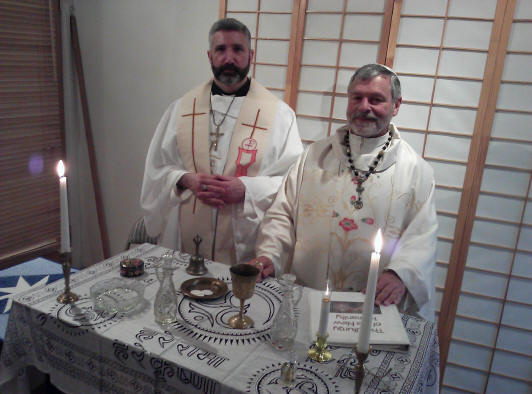 We were assisted by Bishop Mark Aelred of New York City who served as Co-Consecrator.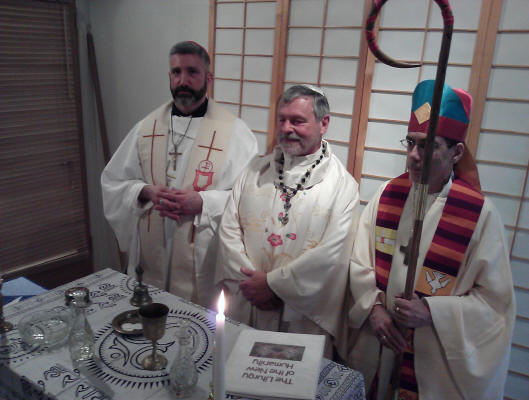 Also in attendance were David (left), who was made a Home Temple Deacon, and the Rev. Michael Pelagius (right), in addition to friends and family members.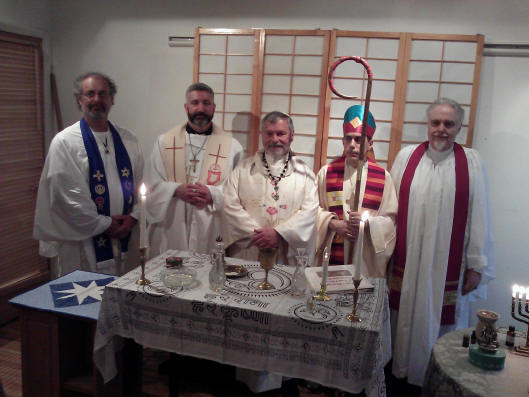 CONSECRATION OF BISHOP ELLIE IN CONTEXT OF MESSIANIC BANQUET EUCHARIST
March 3, 2013
Bishops Marita, Daniel, and Willa Present as Witness Bishops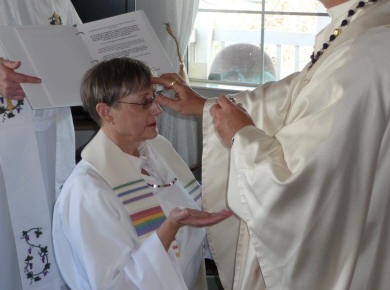 CONSECRATION OF BISHOP KEITH IN CONTEXT OF MESSIANIC BANQUET EUCHARIST
June 29, 2014
Bishops Daniel and Ellie Present as Witness Bishops